LONDON, CMC – West Indies will go head-to-head with nemesis Ireland in their quest reach the International Cricket Council (ICC) 2019 Cricket World Cup, after being installed in Group A of the World Cup qualifiers in Zimbabwe starting in March.
The two-time champions will play alongside the dangerous Irish, with the Netherlands and Papua New Guinea also included in the preliminary group.
The winners of the ICC World Cricket League Division 2 tournament, involving Canada, Kenya, Namibia, Nepal, Oman and the United Arab Emirates, will decide the last side in the group for the March 4-25 qualifying tournament.
Namibia play hosts to the Division 2 tournament from February 8-15.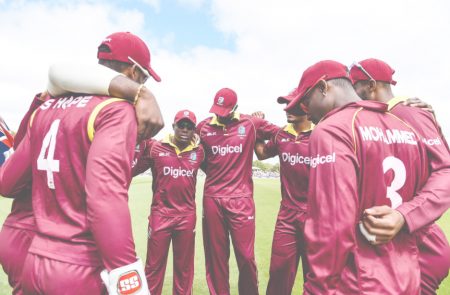 Group B of the World Cup qualifiers, meanwhile, will comprise Afghanistan, Zimbabwe, Scotland, Hong Kong and the runners-up from the Division 2 tournament.
"This will undoubtedly be a competitive and hard fought tournament with two tickets for the ICC Cricket World Cup up for grabs as well as ODI status," ICC chief executive, David Richardson said.
"Seeing four Full Member sides up against our best Associate Member teams who have progressed through qualification will make for some exciting cricket.
"This is the conclusion of a four-year qualification process that began with regional events and progressed through to the global World Cricket League. There is a huge amount at stake for all ten teams battling it out for the remaining two spots at the ICC Cricket World Cup."
All eyes in the qualifiers will be on West Indies who failed to qualify automatically for the World Cup because of their ninth-place ranking at the cut-off date of September 30 last year. Only hosts England, along with the remaining top seven sides, achieved direct qualification.
The Caribbean side entered 2017 battling for the eighth place ranking but lost 16 of 22 ODIs in the calendar year while winning just three matches, to slip even further behind in ninth place.
They will open their qualifying campaign on March 6 with a clash against the yet-to-be determined Division 2 winners, with their sternest test expected to come against Ireland on March 10 at the Harare Sports Club.
The last time the two sides met in an ODI during the 2015 World Cup in New Zealand, Ireland stunned the Windies by four wickets after remarkably chasing down 305.
In the preliminaries, each side will play the other team in their group once, with the top three advancing to the Super Six stage. Each side will then play three matches against the teams they did not meet in the group stage.
All points won in the preliminaries will be carried over to the Super Six round, apart from those gained against the bottom two from each group.
The top two teams will qualify for the final and also book their spots at the World Cup.